Apex Legends' next limited-time event is a Halloween-themed "Fight or Fright" collection event set to run from October 15 to November 5, EA announced today.
The event will feature a special game mode named Shadowfall, as well as exclusive event challenges with earnable cosmetics, purchasable event-limited premium cosmetics, and a new heirloom set.
Shadowfall
Shadowfall, the new limited-time game mode, will see 35 players drop down into Kings Canyon to battle at night. This game mode will bring a unique twist to the previous solo mode that was playable during the Iron Crown Collection event in August.
After dying in Shadowfall, players will respawn as a member of the "Shadow Squad." As a member of the Shadow Squad, players will have the chance to keep playing as an undead version of their legend, but without weapons and legend abilities. Instead, the undead legends will have increased movement speed and jump speed, and a powerful melee attack. The Shadow Squad will have unlimited respawns via skydive as well as the ability to scale walls.
Once ten living legends remain in the game, these players must then work together to escape the map via an evac ship, all while the undead players attempt to stop them.
Event challenges and exclusive cosmetics
The Fight or Fright event will also feature a variety of challenges that will allow players to unlock free exclusive skins, badges, and music packs.
Players will earn a music pack for their first login during the Fight of Fright event.
There's also a variety of legend skins, weapon skins, and a three-tiered badge that can be earned from playing the limited-time Shadowfall event.
Players who win as both a legend and a shadow in Shadowfall will earn the Nocturnal Elegance legendary weapon skin for the Devotion LMG.
And everyone who completes 20 daily challenges from October 15 to November 5 will also receive the Haymaker legendary weapon skin for the Alternator SMG.
Event-limited premium cosmetics
For this Fight or Fright event, all 24 event-exclusive items will be available via direct purchase, crafting, and event apex packs.
Respawn is also updating the way that the latest heirloom item can be unlocked. By unlocking all 24 of the Fight or Fright collection pack items during the event, players will also unlock the Lifeline heirloom set for free. The heirloom set will continue to be available following the event as a bonus in regular apex packs.
Direct Purchase
Legendaries – 1,800 Apex Coins
Epics – 1,000 Apex Coins
Crafting
Legendaries – 2,400 Crafting Metals
Epics – 800 Crafting Metals
Event Apex Packs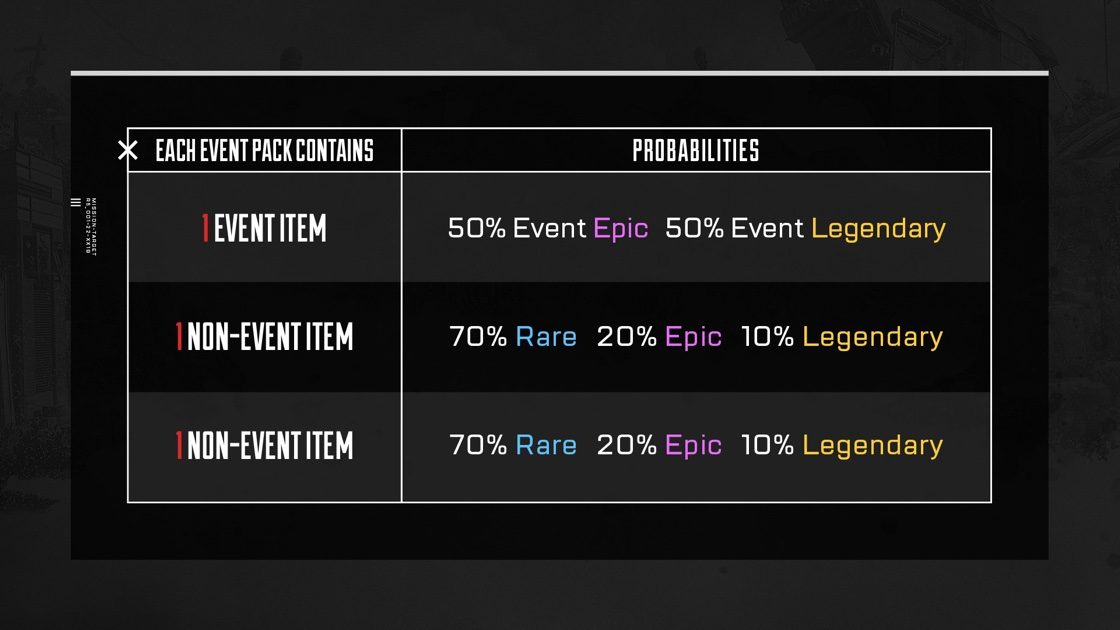 Double XP weekend
Players can rake in double XP for all top 5's and wins between 10 am PST on October 25 and 10 am PST on October 28. The double XP bonus will affect account level and battle pass progression.